Twin Rocks Roasted Root vegetables with Blackberry Balsamic drizzle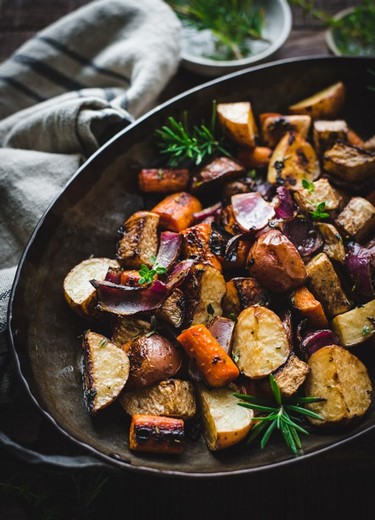 Recipe Date:
November 14, 2023
Measurements:
Imperial (US)
Enjoy the rich flavors and vibrant colors of this roasted root vegetable dish, enhanced by the tangy sweetness of the blackberry balsamic drizzle. It's a perfect addition to your Thanksgiving table, sure to impress your guests and leave them craving for more. Happy cooking!
Ingredients
4 cups Mixed root vegetables (carrots, parsnips, turnips, sweet potatoes)
2 tbsps Twin Rocks Estate Extra Virgin Olive oil
2 tbsps Twin Rocks Blackberry Balsamic Vinegar
1 tbsp Twin Rocks Estate Honey
1/8 tsp Salt & Pepper (To Taste)
Chopped fresh parsley, for garnish
Directions
Instructions:
1. Preheat your oven to 400°F (200°C).
2. Wash and peel the root vegetables, then chop them into bite-sized pieces.
3. Place the chopped vegetables on a baking sheet and drizzle with olive oil. Season with salt and pepper, and toss to coat evenly.
4. Roast the vegetables in the preheated oven for about 30-35 minutes, or until they are golden and tender. Remember to stir them halfway through for even cooking.
5. While the vegetables are roasting, prepare the blackberry balsamic drizzle. In a small saucepan, combine the blackberry balsamic vinegar, and honey. Cook over medium heat until the mixture thickens slightly, about 5-7 minutes. Remove from heat and let it cool.
6. Once the roasted vegetables are ready, transfer them to a serving dish. Drizzle the blackberry balsamic sauce over the vegetables, and garnish with fresh parsley.
7. Serve the roasted root vegetables with blackberry balsamic drizzle as a delightful side dish for your Thanksgiving feast!